Every Great Person Has a Mentor or Motivator.
I'd love to talk to you.
Email me directly at: XO [at] SINCERELYTAM [dot] COM
Wait! Before you go, don't forget to check out the Sincerely HER Podcast.
Find Clarity, Get Sh*t Done, and Win.
The Sincerely HER Podcast provides bite-sized daily motivational notes and exclusive interviews. If you are working on personal development, want creative advice, tips on entrepreneurship, or need inspiration, the Sincerely HER Podcast is perfect for your personal growth journey.
Listen Now!
Hey you! I'm Tam. I help overwhelmed creatives stuck between mediocre and exceptional package their brands and build profitable businesses.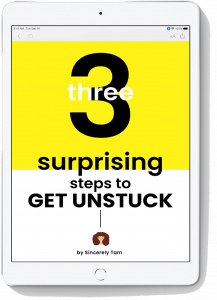 Download this FREE guide to learn three surprising steps to get unstuck and start living your best life NOW!